New and Traditional designs Voler orders reopened
Voler is offering SFR a 2nd chance to order more jerseys. The orders are restored as they were before, meaning the same items are included, however I've added to the traditional design the option of the regular sewing in addition to the Flat Seam style (FS Pro is the flat seam with the visible stitching).

The new order window closes July 15th and items ship Sept. 6th. If there is a reason why you can't place an order for your self before July 15th, please send me mail and we can discuss this.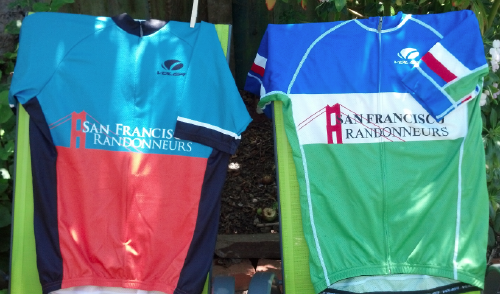 On the left is the New Design, on the right is the Traditional Design using the FS Pro (flat seam construction). Again, the jersey on the right is also available in the standard sewn style where the seams do not show (ie sewn like the jersey on the left)

To order jerseys in the new design, follow this link: http://www.voler.com/custom/ordering/li/3583

To order jerseys in the traditional design (listed on the voler site as 'current design', follow this link: http://www.voler.com/custom/ordering/li/3585

I am not sure why, but only the Traditional design order window offers the choice of club or race cut. The new design is club cut only. Also, I can't really understand why there is a price difference between the two, but this may have to do with the numbers ordered in the past and I believe that the price goes down once we meet the minimum.

rob hawks
SFR rba